Product Description
[Blackvue Korea]◆Korea Authentic◆DR430-2CH Full-HD Vehicle Recording System
Car Camera Recorder Blackbox Carcamera DVR


Note:
This product can only be updated by manufacturer.
We are not responsible for the issue caused
by customer who tried to update firmware.

DR430-2CH
Simple and powerful
Full HD dashcam
that guarantees super clear day
& night video quality.


Color / Size / Weight
Black / Width 115.9 mm x Height 34 mm / 64 g
Recording Mode
Normal Recording, Event Recording (Impact Detection), and Parking mode Recording (Motion+Impact Detection)
* For Parking mode recording, a Parking Mode Battery Pack(Power Magic Battery Pack)
or a Parking Mode Hardwiring Kit (Power Magic Pro) is required.
Camera
CMOS Sensor (Approx. 2.0M Pixel)
Viewing Angle
Diagonal Angle 120°, Horizontal 98°, Vertical 55°
Resolution / Frame Rate
FHD (1920×1080)@30 Fps
* Resolution/frame rate can be changed.
Image Quality
Highest, High, Normal
Video Compression Mode
MP4
GPS
External(optional)
Microphone
Built-in
Speaker(Voice Guidance)
Built-in
LED Indicators
Recording LED, GPS LED,Security LED
Sensor
3-Axis Acceleration Sensor
Backup Battery
Built-in super capacitor
Input Power
DC 12 V − 24 V (DC Plug: (Ø3.5 x Ø1.35), MAX 1 A/12 V)
Power Consumption
Avg. 230 mA (2.76 W at 12 V, when there is no external GPS receiver)
Avg. 260 mA (3.12 W at 12 V, when an external GPS receiver is connected)
* Actual power consumption may vary depending on use conditions and environment.
Operation Temperature
-20°C ~ 60°C (-4°F − 140°F )
Storage Temperature
-20°C ~ 70°C (-4°F − 158°F )
Certifications
FCC, CE, RoHS, RCM,WEEE
Software
BlackVue Viewer
※ Windows XP or higher (Windows 8 supported) and Mac Leopard OS X(10.5) or higher
Recording Time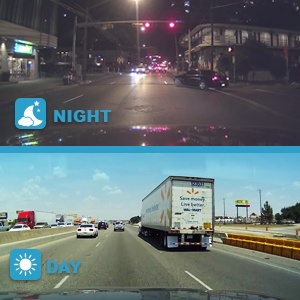 Great videos. Any time of the day
Catch detailed footage of the front surroundings of your vehicle at 1080p Full HD resolution 30fps. It has a 120° wide angle of view and 2.0MP CMOS sensor, providing quality video recordings in all situations.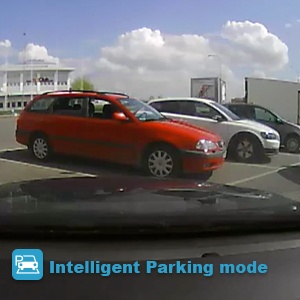 Intelligent Parking Mode: better than a CCTV for your car
Equipped with impact and motion detection technologies, the Parking Mode saves on your vehicle's battery energy and memory card's space by only writing on the micro SD card when impact or motion is detected in the vicinity. As such, you can use your BlackVue as a surveillance device not only for your car but also for the front of your house and the street areas around it. Parking Mode can be enjoyed either by hardwiring your BlackVue to your vehicle's battery with a Power Magic Pro hardwiring kit or connection to the Power Magic Battery Pack.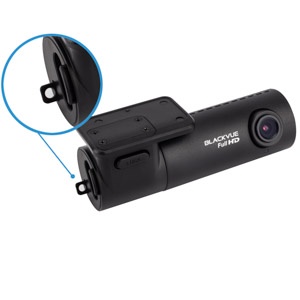 Extra protection for your footage
The BlackVue 450 series comes with an exclusive feature: a security lock loop. By using a padlock you can lock the micro SD compartment up. Take advantage of this unique characteristic and keep unauthorized hands off your recordings.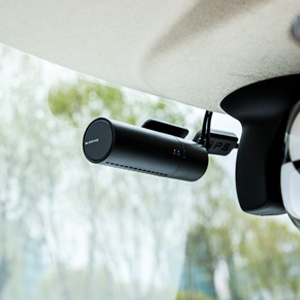 Easy to install and forget
Its small matte black body makes it unnoticeable in the interior of your car. Attach it to the windshield behind the rear view mirror with double-sided tape for better results. Simply plug it into the cigarette lighter / accessory power socket of your vehicle and it will automatically start recording as you turn ignition on. Once set, you can forget about it, knowing it will reliably record your drive.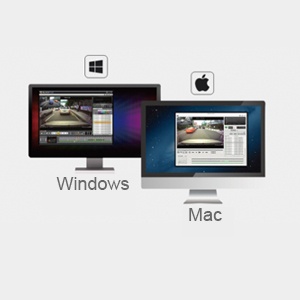 Enhanced experience beyond your vehicle
Expand your experience with BlackVue Viewer, watching your recorded videos or configuring the settings of your dash cam so you can just focus on enjoying your drive. In addition, you can connect your BlackVue to an external GPS that will log your speed and location and display them in the Viewer when you play back your videos.