3M(TM) Safety-Walk(TM) Anti-Slip Floor Stickers - Circle 6pcs/pk
Ease of Maintenance
Improved adhesive technology
Flexible DIY design
Excellent Anti-Slip performance
Use of safe,toxic-free materials
SGD 17.11
Status: In stock
---
14 days easy return
Cash on Delivery available
Nationwide sales
Simple shipping
Product Description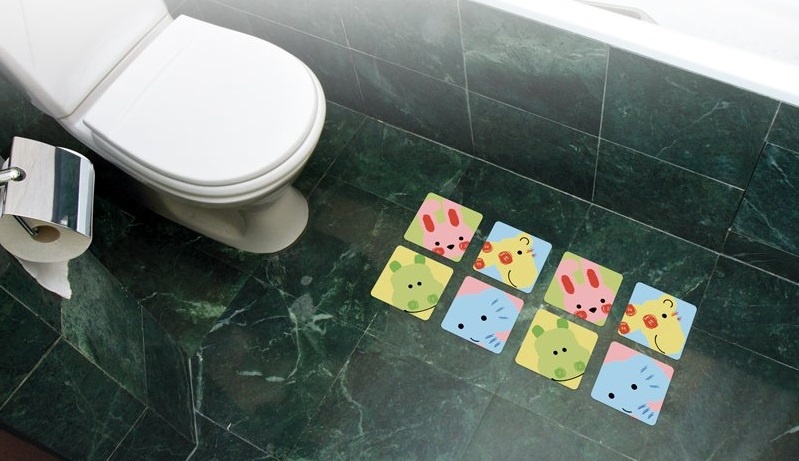 3M™ Safety-Walk™ Anti-Slip Floor Stickers, which are trusted to be user-friendly, of high quality and decorative, is the perfect anti-slip solution for creating a safer home for you and your family.


A 2-in-1 decorative and anti-slip sticker that helps to minimize slip and fall accidents for the young and old. Its superb adhesion allows the product to be applied and used in wet areas like bathrooms and kitchens without it coming off easily.


*Best recommended for application on smooth even flooring for better adhesion.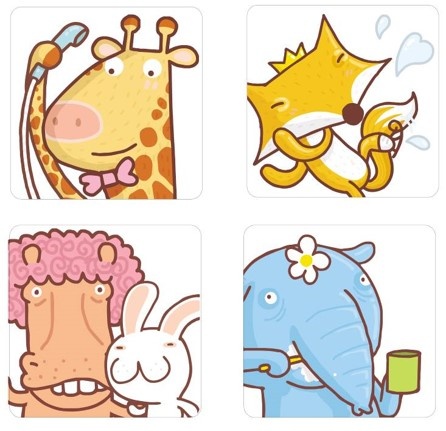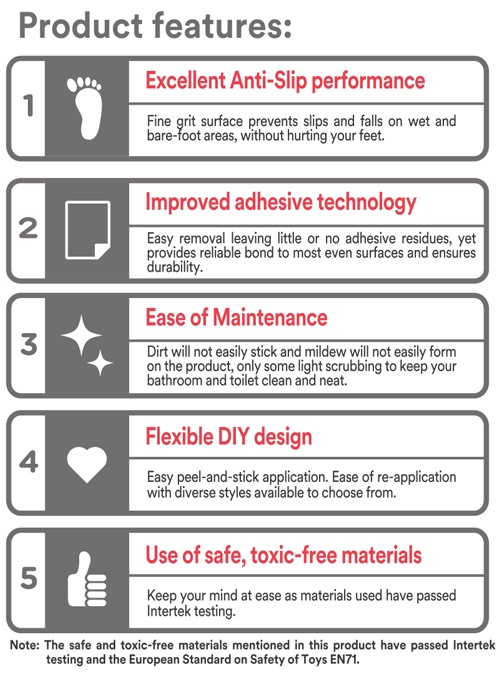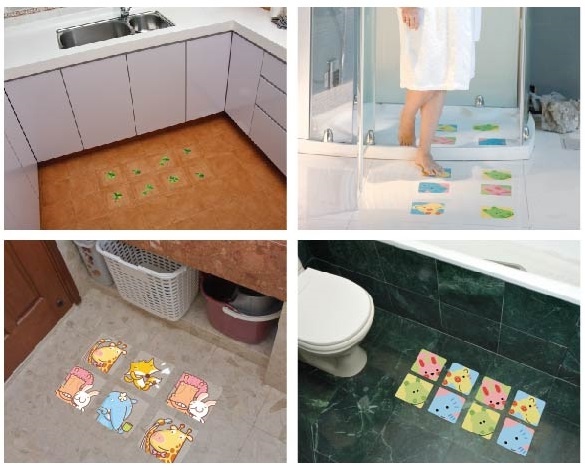 PLANT (4 pieces/pack)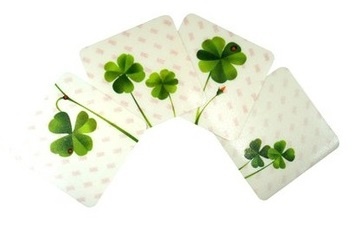 ANIMAL (4 pieces/pack)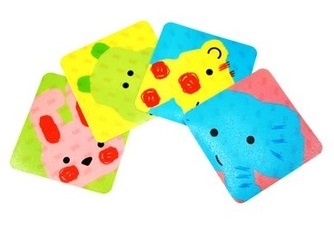 CUTE ANIMAL (4 pieces/pack)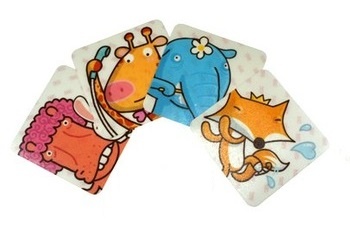 OCEAN (4 pieces/pack)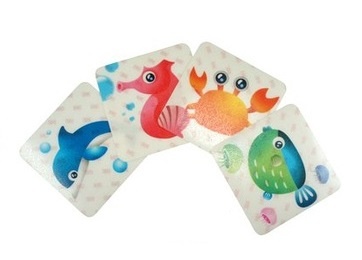 CLEAR (4 pieces/pack)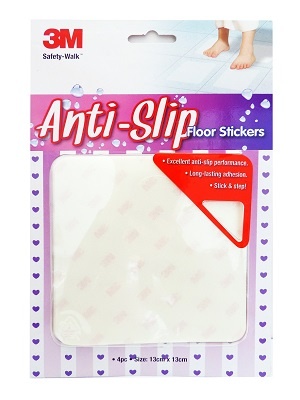 Flowers (6 pieces/pack)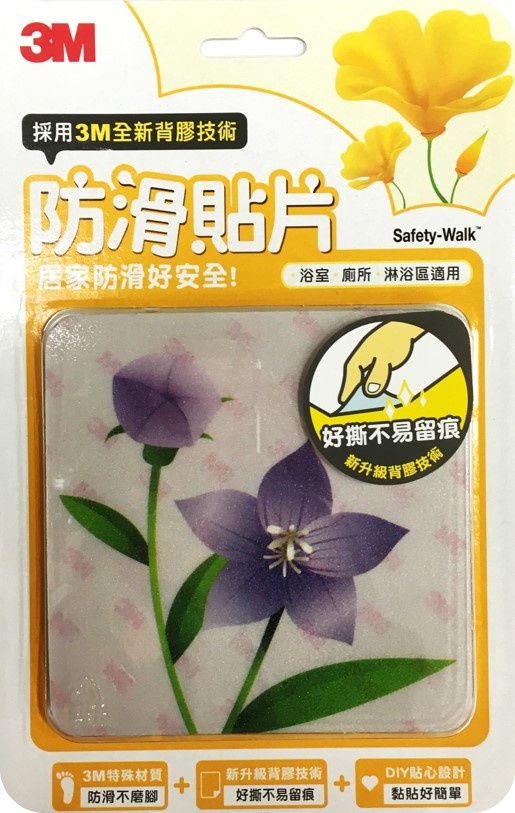 | | | |
| --- | --- | --- |
| |    | Clean the area with soap and water to remove any grease or dirt. 3M™ Sharpshooter™ Tough Stain & Grease Remover is recommended to be used to prepare the surface. Rinse thoroughly and allow to dry completely. |
| |   | Peel one end of the Safety-Walk ™ product backing and place it in the appropriate area. Try not to touch the adhesive. Apply the remaining product by gradually removing the liner and pressing in place. |
| |   | Use a small rubber roller, or any cylindrical shape object, to help provide a firm bond. |
| |   | Avoid contact with water within the first 4 hours after application. |

Q: How far apart should the stickers be placed?
Our stickers come in a size of 13 cm x 13 cm. We suggest an interval of less than 1 foot size in between the stickers to have effective coverage for anti-slip grip.
Q: How do I maintain the flooring after the stickers are pasted on?
Normal cleaning, you can scrub or brush over the floor stickers.
Q: How do we ensure the stickers will not peel off easily?
Choosing product with good adhesive and following the application instructions closely will enable the product to last longer. Product with good adhesive allows the product to last longer and removing it will be a breeze as the adhesive residue will be cleaned off easily.
Q: Why choose anti-slip floor stickers over other form of anti-slip solutions?
Using anti-slip floor stickers give home owners the flexibility of changing the look and appearance of the floor at a relatively lower cost compared to more permanent solutions like anti-slip floor tiles or anti-slip floor treatment.
Keywords are also searched
Best Shopping Apps Hiwalk Antislip mat 60x82 cm compare prices offers [detail]
Cheap online shopping Floor hand-washing room bathroom floor storage cabinet bathroom shelf price checker [detail]
How to find Best Price Floor hand-washing room bathroom floor storage cabinet bathroom shelf cheap online shopping [detail]
Online Price Comparison Nan Zhu floor office floor shelves small bookcase the best cheap [detail]
How to find Best Price Nan Zhu floor office floor shelves small bookcase compare & save [detail]
Shopping Comparison Nan Zhu floor office floor shelves small bookcase find the lowest price [detail]
The Best Cheap 200 cm * to send ring with lead sinkers Nordic color circle showercurtain cloth best budget [detail]
Review 200cm foreign trade shower curtain waterproof fabric shower curtain color circle cheapest price finder [detail]
Price Me Grace Towel Cotton Thick Section Adult Face Towel Pa Fresh Circle Home Cotton Towel In Return find the cheapest [detail]
Flash Sale Grace Towel Cotton Thick Section Adult Face Towel Pa Fresh Circle Home Cotton Towel In Return price me [detail]
Customers who bought this item also bought